Modern computerised production processes and manufacturing plants are increasingly controlled via monitors with touch screens. This technology has so far been widely used on smartphones and tablets. The touch screens recognise finger movements and touch. However, when wearing gloves in winter, smartphones generally react very slowly, or not at all. Similarly, it is often difficult, verging on impossible, to satisfactorily operate a smartphone or tablet with safety gloves.
In industrial workplaces, where this operating technology is becoming ever more widespread for use on monitors, hands often need to be protected against chemicals and dangerous machinery. It is therefore necessary to wear safety gloves. This causes similar potential problems as with the private use of touchscreens mentioned above. The removal of safety gloves can be time-consuming and arduous, disrupting the workflow as well as endangering the safety of employees. Many defined work processes do not allow for gloves to be put on and taken off. Consequently, there is a danger that employees do not even wear safety gloves to begin with, as it is more convenient and saves time. Personal safety then falls by the wayside.
Industrial monitors
In order to input data, human machine interface (HMI) devices need to be able to recognise finger movements and positioning through conductive connections between the display and fingertips. Gloves always hinder this connection, to a greater or lesser extent. For this reason, the right choice of material for gloves as well as the design is highly important. Unsuitable materials or poor workmanship can result in the insulation of gloves being too effective, which means the HMI device only slowly or incorrectly registers finger movements and gestures. It can even make it impossible.
Two partners develop practical solution
uvex teamed up with Siemens to find a solution to this problem. The two companies are both leaders in their respective industries (personal protective equipment and industrial automation technology) and together formed an expert partnership. The first step involved developing and testing safety gloves for operation of Siemens' HMI devices. Following this, the task was to create a safety glove system for using industrial monitors with gesture and multi-finger operation. These safety gloves had to feature excellent sliding properties on screens, high pressure sensitivity and effective touch function to meet the requirements for use with industrial monitors. Comprehensive test trials were carried out with the first Siemens monitor prototypes and uvex safety gloves. The particular challenge in facilitating gesture and multi-finger operation in industrial environments rather than for smartphones is to adapt the touch screen for secure operation both with and without gloves. The materials and coating as well as optimising the fit are all extremely important factors for safety gloves that will be used on industrial monitors with gesture and multi-finger operation. The conductivity between fingers and the screen surface is affected by the choice of materials and fit of the gloves. The appropriate coating on the safety gloves will ensure that fingers can slide easily across the screen.
A complete safety glove system for gesture and multi-finger operation
The result of the collaboration between uvex and Siemens is a comprehensive range of 11 safety gloves for use with monitors in fine assembly and precision work. The products are also suitable for handling oily or sharp parts and chemical substances, as well as for ultra-hygienic work in laboratories, food processing and medicine. uvex's sales material includes clear reference to the additional practical features of these products.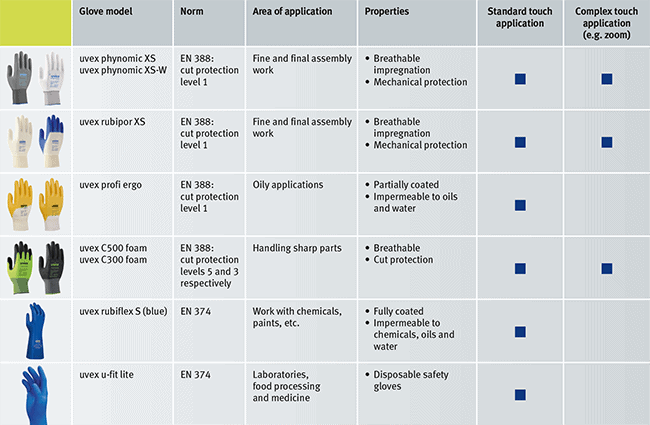 Gesture and multi-finger operation of a SIEMENS SIMATIC HMI industrial monitor using uvex phynomic XS safety gloves.
You would like to order a test sample for the use of industrial monitores? Then write us a short email.