uvex pheos forestry worker set
article number: 9774233
complete set for forestry work, consisting of helmet, mesh visor and earmuffs
certified to EN 397, EN 1731, EN 352-1 and EN 166
comfortable, secure fit with continuous width adjustment
side Euroslot adapters for earmuffs
uvex pheos forestry worker set – safety and comfort for forestry work
This set is specially tailored to the needs of forestry work, and won't let you down when working in forest environments. It is based on the advanced uvex pheos industrial safety helmet, which provides reliable protection against the specific dangers of forestry work with its mesh visor and earmuffs.
General features

set specially developed to meet the needs of forestry workers, consisting of the uvex pheos B-WR safety helmet 9772.230, uvex dBex ear defenders 3000.165 and metal mesh visor 9790.044
safety helmet with slot on the front for helmet lights
colour: orange
Protection features

meets standards EN 166, EN 1731, EN 352-1 and EN 397 as well as additional requirement for very low temperatures (-30 °C)
the mesh visor, which can be locked in position, protects the wearer from foreign bodies while maintaining clear vision
ear defenders complete the safety helmet for all-round protection
Comfort features

three variable air vents for maximum ventilation
suspension harness with wheel ratchet for variable width adjustment
note: If the set is to be used without hearing protection, additional adapters are required to attach the visor (art. no. 9790.042).
Specifications uvex pheos forestry worker set (9774233)
| | |
| --- | --- |
| Product type | safety helmet |
| Version | complete set for forestry work |
| Standards | EN 166, EN 352-1, EN 397, EN 1731 |
| Additional requirement (EN 397) | -30 °C |
| Colour | orange |
| Size | 52 to 61 cm |
Purchase product
Interested in this product? Then click here to display it in our online shop:
Questions about the product?
Please contact our qualified service experts, we are happy to provide further assistance.
UVEX ARBEITSSCHUTZ GMBH
Würzburger Straße 181 - 189
90766 Fürth
Germany
Telephone: +49 800 66 44 893
Fax: +49 800 66 44 894
Standards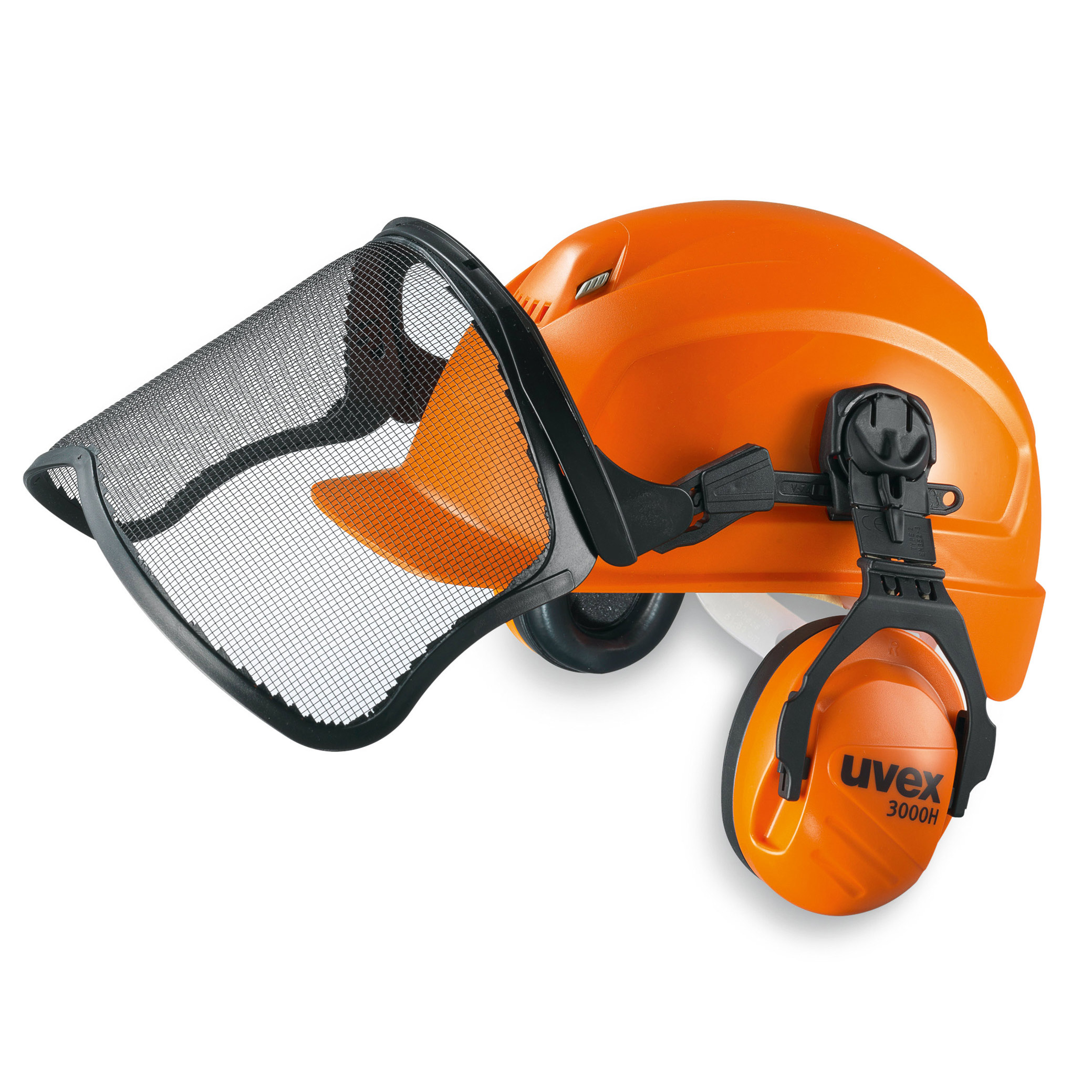 EN 1731
The standard covers personal eye protection with mesh eye and face protectors.