This post is also available in: German
Everyday work in industrial environments exposes employees to a wide range of different dangers, including cut injuries, burns and chemical burns. Particular attention is paid to chemical protection, because the possible hazards in this regard can cause irreversible damage, including fatality. The choice of appropriate personal protective equipment (PPE) classified for Category 3 chemical protection areas and sound, well-informed advice from experts are therefore vital. Our uvex product experts are available to offer this consultation and support in person. In addition, an information system has been developed by experts for experts: the uvex Chemical Expert System (CES). It is an online tool which supports users in comprehensively analysing and optimising hand protection and protective clothing solutions at work. The CES allows you to find the appropriate individual protection solution for the handling of any chemicals that are used in your company. This is recorded in individual permeation lists as well as there being an option to create gloves plans for your company. The uvex gloves plan designer provides support in documenting the right safety gloves for every working environment. The Chemical Expert System can be accessed at any time anywhere in the world and is currently available in six different languages.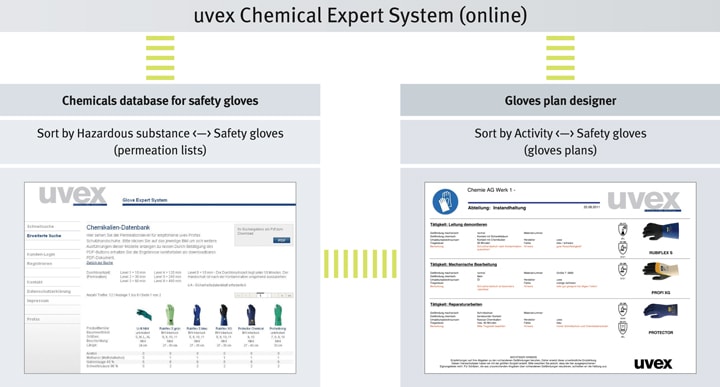 Part 1: Chemicals database
The chemicals database in the uvex Chemical Expert System (CES) offers a comprehensive choice of suitable safety gloves and protective clothing when dealing with hazardous materials. The free public area of the system provides access to a standard chemical list with more than 250 chemicals, while registered user (free registration required) can include more than 3,000 chemicals. In addition, there is the option of including customer-specific chemicals. Registered users also benefit from other premium functions such as creating and saving individual permeation lists as well as various search functions. It is also possible to allocate and select different uvex chemical protection safety gloves and protective clothing for your individual permeation lists. Of course, our uvex centre of expertise for safety gloves in Lüneburg and for disposable chemical protection clothing in Fürth are also available to deal with any questions.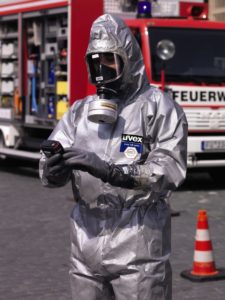 Part 2: Glove plan designer
The glove plan designer in the uvex Chemical Expert System (CES) makes it quick and easy to create glove plans to ensure high safety standards in your business. The high degree of customisation presents a diverse range of possibilities when creating a glove plan. Users can integrate their corporate logo in the glove plan and allocate product-specific material numbers and notes to the products. The individual design of workplace-specific information can be individually adapted and a PDF of the glove plan can be generated immediately on completion.  A new document can be created immediately for every adaptation to an existing glove plan. Individual glove plans can be changed online at any time and again, the uvex team of experts is of course on hand to help.
Advantages of uvex Chemical Expert System
By using the comprehensive database of tested chemicals, individual permeation lists can be quickly and easily created, simplifying the process of selecting the right chemical protection safety gloves and protective clothing for the particular hazard potential. Registering with the uvex Chemical Expert System creates an account which allows end users to benefit from premium functions such as customer-specific chemicals and independent creation of glove plans. A further advantage is the clear and easy operation when creating and managing glove plans. This tool is particularly user-friendly because of the availability of the uvex Chemical Expert System and the variety of languages.
Extensive database of tested chemicals
Individual creation of permeation
Easy selection of chemical protection safety gloves
Personal account with premium functions
Easily create and manage glove plans
High degree of glove plan customisation
Fast response time and available around the clock
Six different languages (Dutch, English, French, German, Hungarian and Turkish)
uvex – advisory and product expertise
This is where you can receive fast, straightforward technical support in selecting the correct safety gloves or protective clothing for working with chemicals.