protecting people
pharma & biotech
Working in the research, development and production of medicines in pharmaceutical and biotech companies calls for the highest standards in reliable protective equipment — after all, employees are exposed to chemical and biological risks as well as all kinds of physical and mental stresses during their work. For these reasons, uvex has developed optimal PPE solutions that are specially designed for use in the pharmaceutical and biotech industries. Our products not only provide the best possible protection against workplace hazards, but also against long-term health risks. In this way, our products improve the well-being of your employees. Our exclusive portfolio for different areas of application in the pharmaceutical & biotech industry has the right PPE products for you: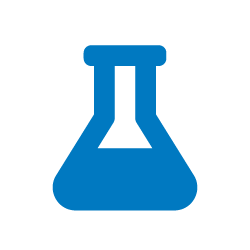 laboratory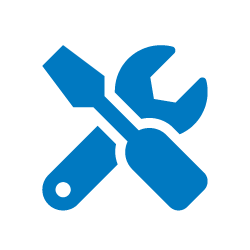 production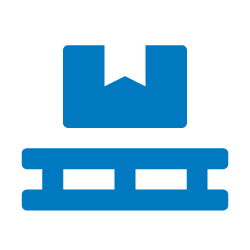 filling lines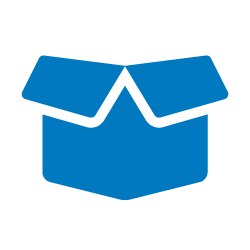 packaging lines
Safety spectacles — focus on innovation and quality
Work in the pharmaceutical and biotech industries is all too often accompanied by a number of mechanical, chemical and optical risks to eye health. Our diverse uvex eyewear range offers different designs, tints and coatings that are specially developed for use in laboratories, research and production environments.
clean room
Autoclavable safety spectacles with anti-fog coating. Specially designed for repeated autoclave sterilisation (20 x 20 minutes at maximum 121°C).
laboratory
Safety spectacles with ideal tint for laboratories and workstations with LED lighting. The special uvex CBR65 lens tint reduces blue light and increases the contrast for fatigue-free and relaxed vision.
all-round
Clear vision all day long: The uvex supravision plus and uvex supravision excellence anti-fog coatings keep the uvex safety spectacles from fogging, providing the optimal solution for working safely and with unrestricted vision. Please don't hesitate to contact us, if you require more information on further models with these coatings.
For even better vision - uvex accessories
Keep your safety glasses clean: uvex clear lens cleaning towelettes are suitable for all lenses and ensure a clear view at all times. Discover our wide portfolio in the area of safety eyewear accessories.
Respiratory masks — secure fit and optimal comfort
Particle-filtering respiratory masks are a must when handling chemical substances in laboratories and similar environments. The uvex silv-Air product family includes masks in the FFP1, FFP2 and FFP3 protection classes, which are characterised by superior wearer comfort and low breathing resistance.
A perfect match — all-round protection from uvex
As a system provider of PPE, we make it our mission to provide reliable all-round protection for your employees. Therefore, our safety spectacles are also suitable for use in combination with our respiratory masks.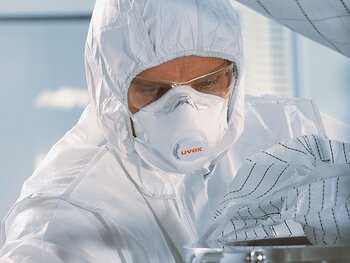 uvex Respiratory Expert System
The fast route to finding the right respirator for your needs.
Safety footwear — ergonomics to provide relief
Standing up all day has an impact on your whole body: As well as negatively affecting your feet and your the musculoskeletal system, long periods of standing can also result in fatigue and reduced concentration. The ergonomic safety footwear offered by uvex counteract these problems, providing the wearer with relief even on days that require a lot of walking and/or standing around. Our safety footwear complies with protection class S1, S1P, S2, S3 SRC, feature above-average shock absorption, avoid pressure points and are extreme slip resistant.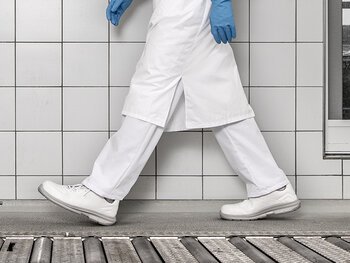 Shoe size finder
The uvex shoe size finder app makes it particularly easy to measure your feet and to find the shoe size and width you need.
Safety gloves — maximum protection with excellent tactile feel
Essential for working with chemicals and in the laboratory: Our uvex chemical protective gloves provide reliable protection against most chemicals and, thanks to their ergonomic fit and the high level of sensitivity they offer, they also facilitate unrestricted work requiring fine motor skills.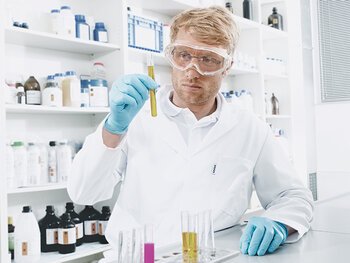 uvex chemical expert system
Get expert support when selecting your safety gloves and protective clothing for handling chemicals.
Protective clothing — workwear for a safe workflow
Whether you're working in a laboratory or in pharmaceutical manufacturing, make sure that you're properly suited up for the job: uvex offers clothing items that are suitable for a wide range of activities in the pharmaceutical and biotech industry, ranging from conventional laboratory coats for men and women to breathable chemical protection suits.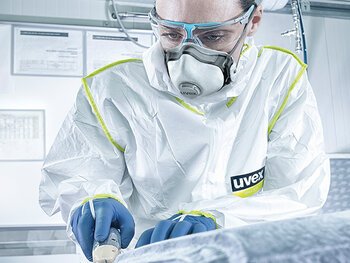 Workwear for a safe workflow
A number of aspects play an important role when choosing the perfect protective clothing.
Individual PPE — our service for optimal protection
Protective equipment needs to fit just right: That's why uvex offers customised options on many of its PPE products such as prescription safety spectacles, orthopaedic safety footwear solutions and individualised hearing protection otoplastics. Find out more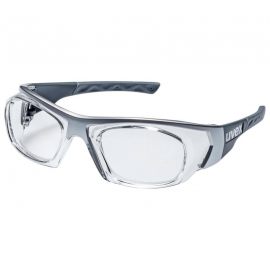 Prescription safety spectacles uvex RX cd 5521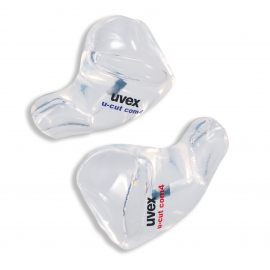 uvex high-fit u-cut com4 otoplastic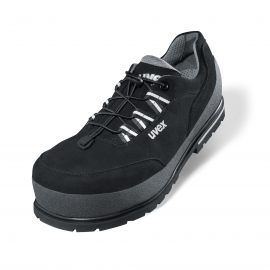 uvex motion 3XL S3 SRC shoe
Arrange a consultation with our uvex health care experts
Are you interested in our uvex health care equipment and would like to discuss questions and possible conditions? Our uvex health care experts will be happy to help. Submit a request via our online contact form and we will send you more information.