protecting people
Professional safety protection for service providers
Times are turbulent and pose enormous challenges for all of us. It is not just the current Coronavirus pandemic, but also shifts in the market, amended rules and a skills shortage that are compelling many companies to take new approaches.
A well-established and reliable partner by your side
Heading into the future together with uvex – for many of our customers from a wide range of service sectors, it is especially important now to know that they can count on uvex to be by their side as a well-established and reliable partner. Corporate responsibility for society, the environment, economy and employees is becoming increasingly important: In their tenders, our customers are requesting clear statements on these topics. Many associations are working with their members to develop and improve their concepts for corporate social responsibility on a continuous basis.
More in-house production
uvex never shies away from its responsibility: When customers choose an uvex product, they are choosing the "Made in uvex" principle. This principle represents the company's focus on the production facilities it owns, many of them are located in Germany and across Europe. As a result, we are either responsible for the entire value creation chain or we can have a considerable influence over it.
A sustainable, responsible approach
To us, it is very clear: Any company wanting to protect people must accept the responsibility that comes with it. Our mission "protecting people" instils in us the commitment to work sustainably and with a social conscience. We document this completely transparently: Since 2017, the uvex group has published its sustainability report online in accordance with the specifications of the GRI content index.
We offer a special range of products and services for the following service sectors:
You work in a wide range of sectoral areas. To this end, you need a partner in the professional safety sector that can cover virtually every category with regard to personal protective equipment; and that can deliver its products quickly and reliably.
Your employers are essentially your personal business card and represent your professionalism in every situation. And because it is not always possible to know absolutely everything (such as the right safety gloves to wear when using cleaning agents), you draw on the experience of a brand system provider with manufacturing expertise.
Building service provider
Looking smart and using personal protective equipment does not have to be mutually exclusive. With products from uvex, you combine innovation and maximum safety.
Security service providers
By professionals, for professionals: As a brand manufacturer for innovative safety products, we comply with all legally required standards; and in many cases, we go above and beyond the standards. For you this means: Optimally protected employees with products offering maximum wearer comfort. We are happy to advise you.
VBG grant
Save money with professional safety bonuses from the VBG!
BG Bau grant
Save money with professional safety bonuses from BG Bau!
Our product portfolio for service providers
The PDF catalogue gives an overview of all the uvex products in the special product and service range for various service providers.
Professional safety shop for recruitment agencies
An order platform covering virtually every sector in which your employees work – with the uvex web shop, you have an efficient procurement tool as service provider. And with your own log-in area, you have an ideal management tool! So click on through and order personal protective equipment directly from the manufacturer – no hassle, just good value.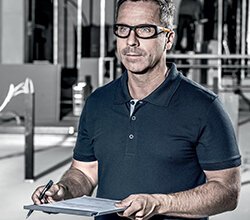 Arrange a consultation with our uvex experts
Are you interested in our uvex professional safety equipment for the service provider industry and would like to discuss questions and possible conditions? Our uvex service provider experts will be happy to help. Submit a request via our online contact form and we will send you more information.
Education and training on PPE and professional safety at the uvex academy
With uvex, you can keep your professional safety expertise up to date and collect VDSI (German Association for Safety, Health and Environmental Protection at Work) or VÖSI (Association of Austrian Safety Engineers) points. Take advantage of our individual seminars or arrange exclusive company seminars – at our headquarters in Fürth, Germany or at your own business site.