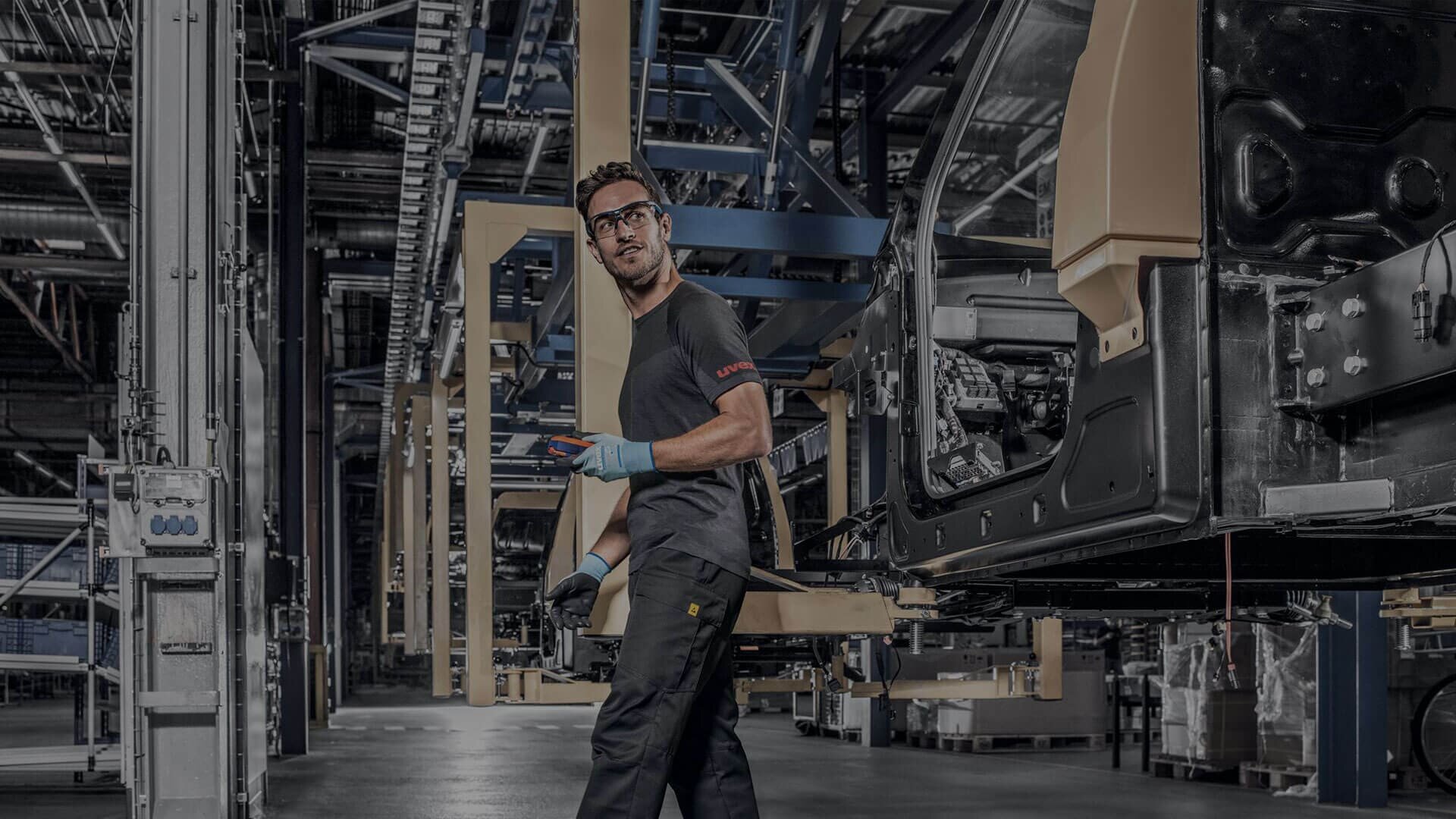 protecting people
Bodywork and metalworking applications
uvex occupational safety equipment for bodywork and metalworking applications
Do your employees process and finish raw metal materials to make vehicle components or bodywork? These workplaces are often characterised by sharp metal, flying sparks and swarf, as well as heat from welding and grinding. It is in precisely these work areas that accident protection and ergonomics are particularly important. uvex constantly develops products in close collaboration with metalworking companies that achieve maximum protection and wearer acceptance for your staff.
High cut protection and skin compatibility
When it comes to handling sharp pieces of metal, there are justifiably strict requirements for safety gloves and protective clothing. The majority of accidents involve minor to severe cuts. Therefore, it is crucial to adequately protect the workers concerned and ensure optimum comfort, even under difficult working conditions. uvex achieves this through the use of innovative textiles that are comfortable on the skin, even for allergy sufferers, due to natural fibres (e.g. bamboo) and dermatological tests and protect the wearer at the same time.
Individual test procedures for PPE
In addition to the skin compatibility of gloves and textiles, the protective function of PPE must also undergo specific test procedures. However, no standards currently set out an official procedure relating to the risk of flying sparks (e.g. during grinding operations). uvex therefore develops its own test stations for these types of risks that check the performance of uvex PPE in practice and thereby ensure that wearers are optimally protected.
Limitless protection for your hearing
In metalworking operations - in addition to protective clothing, safety gloves and safety spectacles - optimum hearing protection is essential equipment for the workers concerned. uvex not only offers a wide range of hearing protection earplugs of different sizes and with various characteristics, but also ear defenders and individual otoplastics. Otoplastics are moulded by trained staff and ensure voice clarity, benefit from a sustainable design and are extremely comfortable for workers to wear.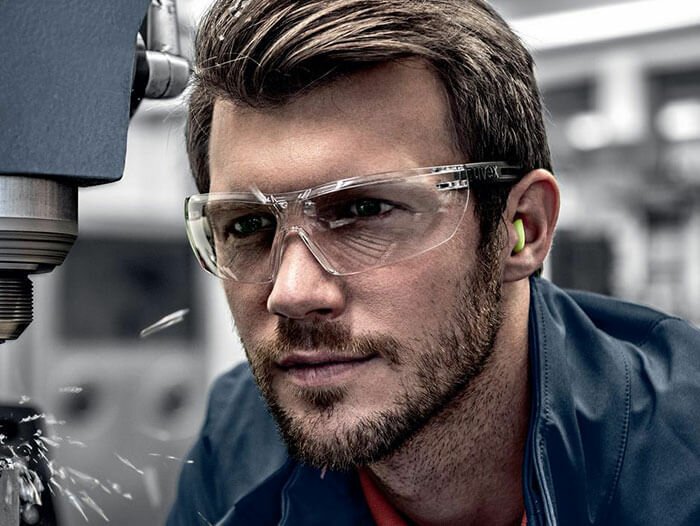 Hearing protection consultants
There are many different types of hearing protection, which is required in a range of situations.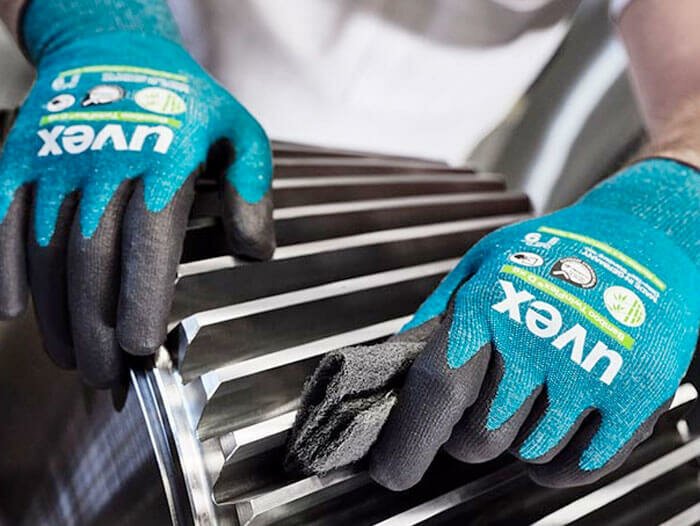 uvex Bamboo TwinFlex®
Since its introduction, uvex Bamboo TwinFlex® technology has been a guarantee for cut protection at the highest level.
Eye protection for bodywork and metalworking applications
UV400 vs. UV380
The WHO recommends UV protection up to 400 nm. For uvex, this has always been a given.
Hand protection for bodywork and metalworking applications
The perfect safety gloves
Find your perfect safety gloves by answering four easy questions.
Foot protection for bodywork and metalworking applications
Shoe size finder
The uvex shoe size finder app makes it particularly easy to measure your feet and to find the shoe size and width you need.
Head protection for bodywork and metalworking applications
Hearing protection for bodywork and metalworking applications
Using earplugs correctly
You will only benefit from the full protective effect of your hearing protection if you insert it correctly and clean reusable earplugs properly.
Respiratory protection for bodywork and metalworking applications
uvex Respiratory Expert System
The fast route to finding the right respirator for your needs.
Protective clothing for bodywork and metalworking applications
Prescription safety spectacles and VDU spectacles for bodywork and metalworking applications
More frames
uvex RX cd - comfort & design
Lens materials
Polycarbonate (PC)
Organic material with very high tensile strength
Only limited chemical resistance
Mechanical strength, class "F" (45 m/sec)
PC+ – polycarbonate lens that is thicker in the middle, especially for uvex RX goggles
Trivex™
Organic material with high tensile strength
Lightweight, also suitable for high prescriptions
Very good optical image reproduction properties even on high prescriptions
Very high resistance to cleaning solutions, oils, cosmetics
Good scratch resistance
Best all-round lens material
Mechanical strength, class "F" (45 m/sec)
Finishes
Anti-reflective coating
Anti-reflective coating is applied to the inside and outside of lenses using vapour deposition. It significantly reduces reflections on the surfaces. It offers a cosmetic advantage and increases light transmission.
Three types of coating are available:
Normal anti-reflective coating
Multi anti-reflective coating
Super anti-reflective coating
UV blue protect
UV blue protect
A special absorber has been added to the lens material that completely filters out UV rays and reduces the blue light content.
The lenses absorb UV radiation up to 400 nm at 100%, filter short-wave blue light until 410 nm almost completely and reduce the range from 410 nm to 420 nm around 86%.
uvex UV blue protect lenses enhance contrast and effectively prevent signs of fatigue and age-related macular degeneration (AMD)
UV blue protect is optionally available for polycarbonate (PC) lenses and HI 1.67
the mechanical strength of the lenses is guaranteed — clear lenses with UV blue protect are marked 2C-1.2 according to EN 170
Our service for optimal protection
Individual eye protection with uvex VDU spectacles and uvex prescription safety spectacles.
Otoplastics for bodywork and metalworking applications
Medicare for bodywork and metalworking applications
Certified safety shoe insoles from uvex medicare
Everything you need to know about insoles at a glance!
(German only)
Arrange a consultation with our uvex automotive experts
Are you interested in our uvex automotive equipment and would like to discuss questions and possible conditions? Our uvex automotive experts will be happy to help. Submit a request via our online contact form and we will send you more information.