protecting people
uvex occupational safety equipment for sales applications
Show rooms in the vehicle sales sector impress with a modern design and brand language. Sales staff meet customers every day and embody the values and quality of your brand.
In doing so, a large number of people see your brand. To this end, uvex offers products that complement the language of your brand in an elegant and sporty way and still protect your staff when they are in direct contact with other people or rushing to the workshop.
A hazardous sales area?!
Compared to a workshop, a sales area often seems risk-free for employees. However, long working hours in front of screens as well as stressful noise levels in open-plan offices should not be underestimated sources of strain on your employees' health. The wide product range from uvex features stylish VDU spectacles that help prevent neck strain and can also be equipped with an anti-reflection coating or blue light filters. Otoplastics with a low level of insulation offer comfortable hearing protection, enable focussed work and optimum voice clarity in sometimes hectic everyday office life.
Stylish protection in sales areas and workshops
Part of a range of shoes focused on stylish design, a lightweight construction and exceptional protection, the "uvex 1 business" models are a smart combination for talking to customers or the short walk to the workshop. Regardless of whether you opt for shoes, boots or Chelsea boots, these shoes go perfectly with business attire and enable employees to work flexibly between the sales area and the garage.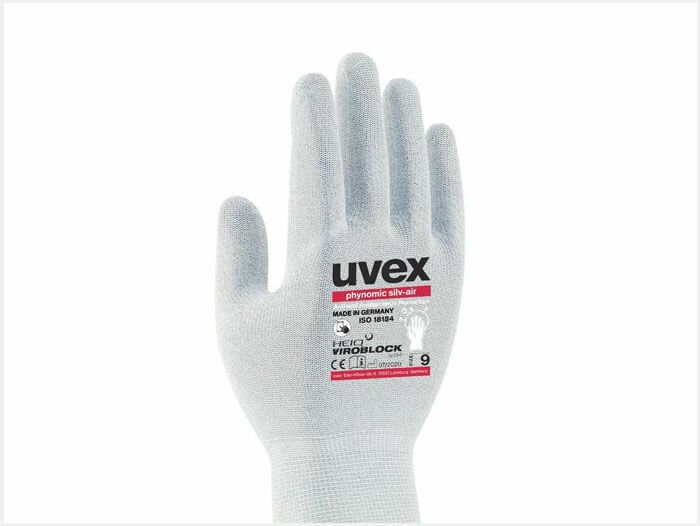 Sanitiser you can wear
Hygienic protection uvex phynomic silv-air gloves are an alternative or supplement to disposable safety gloves.
Eye protection for sales applications
UV400 vs. UV380
The WHO recommends UV protection up to 400 nm. For uvex, this has always been a given.
Hand protection for sales applications
The perfect safety gloves
Find your perfect safety gloves by answering four easy questions.
Foot protection for sales applications
Shoe size finder
The uvex shoe size finder app makes it particularly easy to measure your feet and to find the shoe size and width you need.
Hearing protection for sales applications
Using earplugs correctly
You will only benefit from the full protective effect of your hearing protection if you insert it correctly and clean reusable earplugs properly.
Respiratory protection for sales applications
uvex Respiratory Expert System
The fast route to finding the right respirator for your needs.
Protective clothing for sales applications
Prescription safety spectacles and VDU spectacles for sales applications
More frames
Plastic frames – uvex VDU spectacles
Metal frames – uvex VDU spectacles
Titanium frames & nylor frames – uvex VDU spectacles
Lens materials
CR39
Also known as: plastic
Not suitable for safety spectacles unless modified, as the tensile strength is otherwise too low. The middle of the lens must be thicker in order to meet the requirements for tensile strength.
Organic, lightweight material
Very good optical image reproduction properties even on high prescriptions
Suitable for working with chemicals and paint
Good scratch resistance thanks to hard coating (optional)
Mechanical strength, class "S" (ball drop test)
Anti-reflective coating
Anti-reflective coating is applied to the inside and out-side of lenses by means of vapour deposition. It significantly reduces reflections on the surfaces. It offers a cosmetic advantage and increases light transmission. Three qualities are available: Normal anti-reflective coating, Multi anti-reflective coating and super anti-reflective coating
Normal anti-reflective coating:
Good reduction of reflections
Metal oxide is applied once to each surface
Residual reflection ≈ 4%
Super anti-reflective coating:
Maximum reduction of reflections
Metal oxide is applied several times to each surface
Residual reflection < 2%
uvex UV blue
Surface finish consisting of different layers. It includes a layer that filters short-wave visible light in the blue-violet range with increased effect.
Effective protection against the symptoms of fatigue and headaches associated predominantly with long periods of working at a monitor and/or with digital media.
The uvex UV blue layer system also includes a super anti-reflective coating and a scratch-resistant coating.
Our service for optimal protection
Individual eye protection with uvex VDU spectacles and uvex prescription safety spectacles.
Otoplastics for sales applications
Medicare for sales applications
Certified safety shoe insoles from uvex medicare
Everything you need to know about insoles at a glance!
(German only)
Arrange a consultation with our uvex automotive experts
Are you interested in our uvex automotive equipment and would like to discuss questions and possible conditions? Our uvex automotive experts will be happy to help. Submit a request via our online contact form and we will send you more information.