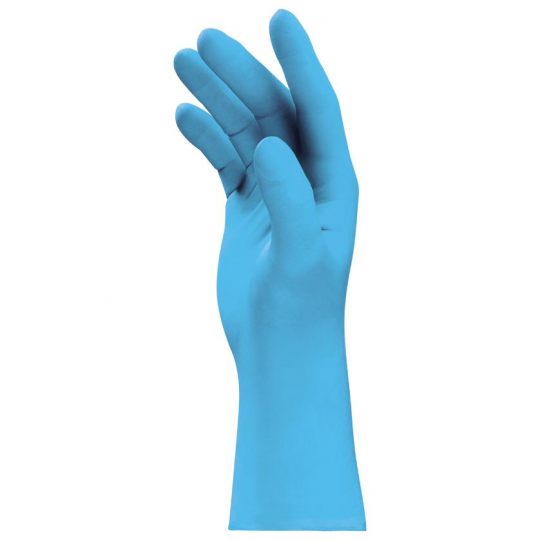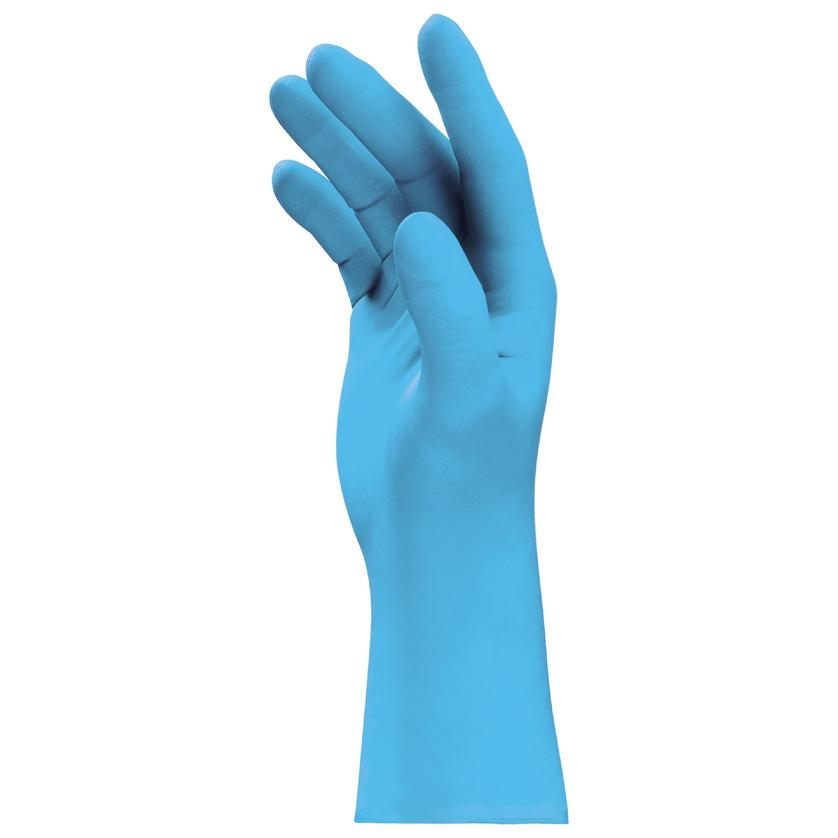 uvex u-fit ft chemical protection glove
Article number: 60166
robust, flexible disposable protection
certified to EN ISO 455, 374-1:2016/Type B (J K P T)
excellent chemical resistance and suitable for use with foods
uvex u-fit ft — versatile disposable protection
The uvex u-fit ft is characterised by its excellent mechanical strength and also offers reliable protection against oil and dirt for light assembly activities.

General features
thin and reliable NBR disposable safety gloves (0.10 mm)
NBR (nitrile rubber), approx. 0.10 mm
colour: marine
available in sizes: XS to XL
AQL 1,5
Protective features
certified to EN ISO 455, 374-1:2016/Type B (J K P T)
good grip with the roughened surface
reliable spray protection when handling chemicals such as acids, alkalis, solids or aqueous saline solutions
silicone-free according to imprint test
Comfort features
outstanding tactile feel
very good fit
extremely high flexibility
Areas of application
precision assembly work
inspections
handling chemicals for short periods
paint shop (as splash protection)
food processing
easy cleaning
product protection
Specifications uvex u-fit ft chemical protection glove
| | |
| --- | --- |
| Product type | Chemical protection |
| Product family | uvex u-fit |
| Version | aprrox. 24cm, fingertips roughened |
| Coating | Nitrile rubber (NBR) |
| Product system | Construction |
| Norm | EN ISO 455, 374-1:2016 /Type B (J K P T) |
| Food-compatible | Yes |
| Material | No lining |
| Colour | Blue |
| Size | XS - XL |
| Suitable for | Good resistance to grease and oils |
| | Aqueous pH > 4.5 | Acidic pH < 4.5 | Alcoholic | Fatty | Dry (non-fatty) |
| --- | --- | --- | --- | --- | --- |
| Examples | Non-alcoholic beverages, fruit, eggs, vegetables, crustaceans | Vinegar, yeast, milk, yoghurt | Wine, spirits, liqueurs | Olive oil (R1), butter and margarine (R2), fish, cheese and baked goods (R3), meat and poultry (R4), sandwiches and deep-fried pastries (R5) | Bread, rice, pasta, tea, spices, pulses |
| uvex phynomic airlite A ESD | YES | YES | YES | YES (R1 to R5) | YES |
| uvex profi ergo | YES | YES | YES | YES (R1 to R5) | YES |
| uvex contact ergo | YES | YES | YES | YES (R1 to R5) | YES |
| uvex phynomic C3 | YES | YES | YES | YES (R1 to R5) | YES |
| uvex pynomic C5 | YES | YES | YES | YES (R1 to R5) | YES |
| uvex rubiflex (orange) | YES | YES | YES | YES (R1 to R5) | YES |
| uvex rubiflex S (blue/green) | YES | YES | YES | YES (R1 to R5) | YES |
| uvex profastrong NF 33 | YES | YES | YES | YES (R2 to R5) | YES |
| uvex u-fit | YES | YES | YES | YES (R3 to R5) | YES |
| uvex phynomic foam | YES | YES | YES | YES (R5) | YES |
| uvex phynomic lite/uvex phynomic lite (w) | YES | YES | YES | YES (R1 to R5) | YES |
| uvex unilite thermo | YES | YES | YES | NO | YES |
| uvex u-fit strong N2000 | YES | NO | YES | YES (R3 to R5) | YES |
| uvex u-fit lite | YES | NO | YES | YES (R3 to R5) | YES |
| uvex u-chem 3300 | YES | YES | YES | YES (R2 to R5) | YES |
| uvex u-fit ft | YES | YES | YES | YES (R1 to R5) | YES |

Further information, including test principles, is available on request.
Questions about the glove?
Our gloves experts in Lüneburg are happy to help:
UVEX SAFETY Gloves GmbH & Co. KG
Elso-Klöver-Straße 6
21337 Lüneburg
Germany
Telephone: +49 4131 9502-0
Fax: +49 4131 84338
Chemical Expert System
Online tool with chemicals database and glove plan designer.