protecting people
health care services
Our mission 'protecting people' also includes providing holistic protection to people in the health sector, where we support them in their everyday work — with the highest levels of quality, technology and wearer comfort. Our PPE products in the "health care services" category are designed for employees in hospitals, nursing homes, medical practices and other healthcare facilities, and are optimised solutions that provide the best possible protection for everyday activities. The possible field of application and our large portfolio for the area of "health care services" at a glance: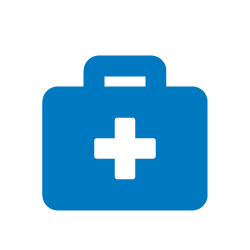 medical practices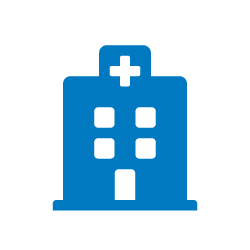 hospitals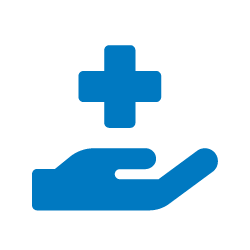 care facilities
Safety spectacles — with a clear vision through the working day
Innovative eyewear protection that features a variety of models, tints and coatings. With the unique coating technologies uvex supravision plus and uvex supravision excellence, our anti-fog safety spectacles offer the optimal solution for working safely and with a clear, unrestricted vision. Our wide range of safety spectacles are also particularly suitable for use in combination with respiratory masks.
Safety spectacles tailored to individual requirements
We also offer prescription safety spectacles and VDU. Find out more
Autoclavable safety spectacles
Autoclavable safety spectacles with anti-fog coating. Specially designed for repeated autoclave sterilisation (20 x 20 minutes at maximum 121°C).
For even better vision - uvex accessories
Keep your safety glasses clean: uvex clear lens cleaning towelettes are suitable for all lenses and ensure a clear view at all times. Discover our wide portfolio in the area of safety eyewear accessories.
Respiratory masks — secure fit and optimal comfort
The uvex silv-Air respiratory masks, certified in accordance with DIN EN 149, offer maximum protection, superior wearer comfort and low breathing resistance.
How to put on the mask
Find out how to correctly wear FFP2 masks.
Safety gloves — maximum protection with excellent tactile feel
Indispensable for working with chemicals and cleaning products: Our uvex chemical protective gloves offer reliable protection against most chemicals and allow unrestricted, fine-motor movemen thanks to their ergonomic fit and high tactile feel.
uvex chemical expert system
Get expert support when selecting your safety gloves and protective clothing for handling chemicals.
Safety footwear — ergonomics to provide relief
Standing up all day has an impact on your whole body: As well as negatively affecting your feet and your the musculoskeletal system, long periods of standing can also result in fatigue and reduced concentration. The ergonomic safety footwear offered by uvex counteract these problems, providing the wearer with relief even on days that require a lot of walking and/or standing around. Our safety footwear for the feature above-average shock absorption, avoid pressure points and are extreme slip resistant.
Shoe size finder
The uvex shoe size finder app makes it particularly easy to measure your feet and to find the shoe size and width you need.
Protective clothing — workwear for a safe workflow
uvex offers clothing items that are suitable for a wide range of activities in the health care services sector, ranging from conventional laboratory coats for men and women to breathable disposable coveralls against infective agents
From head to toe: uvex Safety Expert System
Six steps to increased safety, economic efficiency and acceptance of PPE. Our experts are happy to support you every step of the way, from analysis to final approval
Areas of application with special requirements
Laser rays
In some medical procedures, both employees and patients are exposed to a high level of laser radiation. uvex laservision has been one of the world's leading manufacturers of laser protection products for over 30 years.
Find out more
x-rays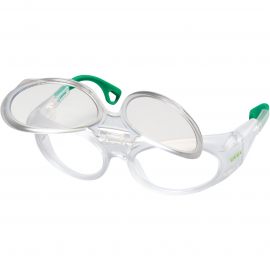 Prescription safety specs uvex RX cd 5505 flip-up X-ray protection
When performing radiology or external radiation therapy, employees are exposed to ionising radiation. The uvex RX cd 5505 flip-up spectacles provide optimal protection against x-rays.
Blue light radiation 525 nm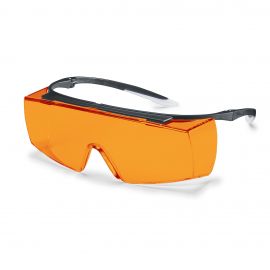 uvex super f OTG spectacles
Many employees in the healthcare sector, especially in the dental sector, are exposed to blue UV and LED radiation. The orange tint of the uvex super f OTG spectacles blocks the transmission of light by up to 525 nm and is therefore ideal for dentists and dental technicians among others.
UV-C disinfection lamps
If it is not possible to completely remove human exposure to an activated UVC lamp, it is recommended that individuals wear a combination of eye and face protection in addition to appropriate UV protective clothing for body and hands. This should consist of a visor (according to EN166 and EN170) to protect the eyes and face from UV radiation. Where there is a danger of glare and/or strong blue light emission from the lamp, the addition of safety eyewear with a very dark tinted lens should also be considered.
Arrange a consultation with our uvex health care experts
Are you interested in our uvex health care equipment and would like to discuss questions and possible conditions? Our uvex health care experts will be happy to help. Submit a request via our online contact form and we will send you more information.