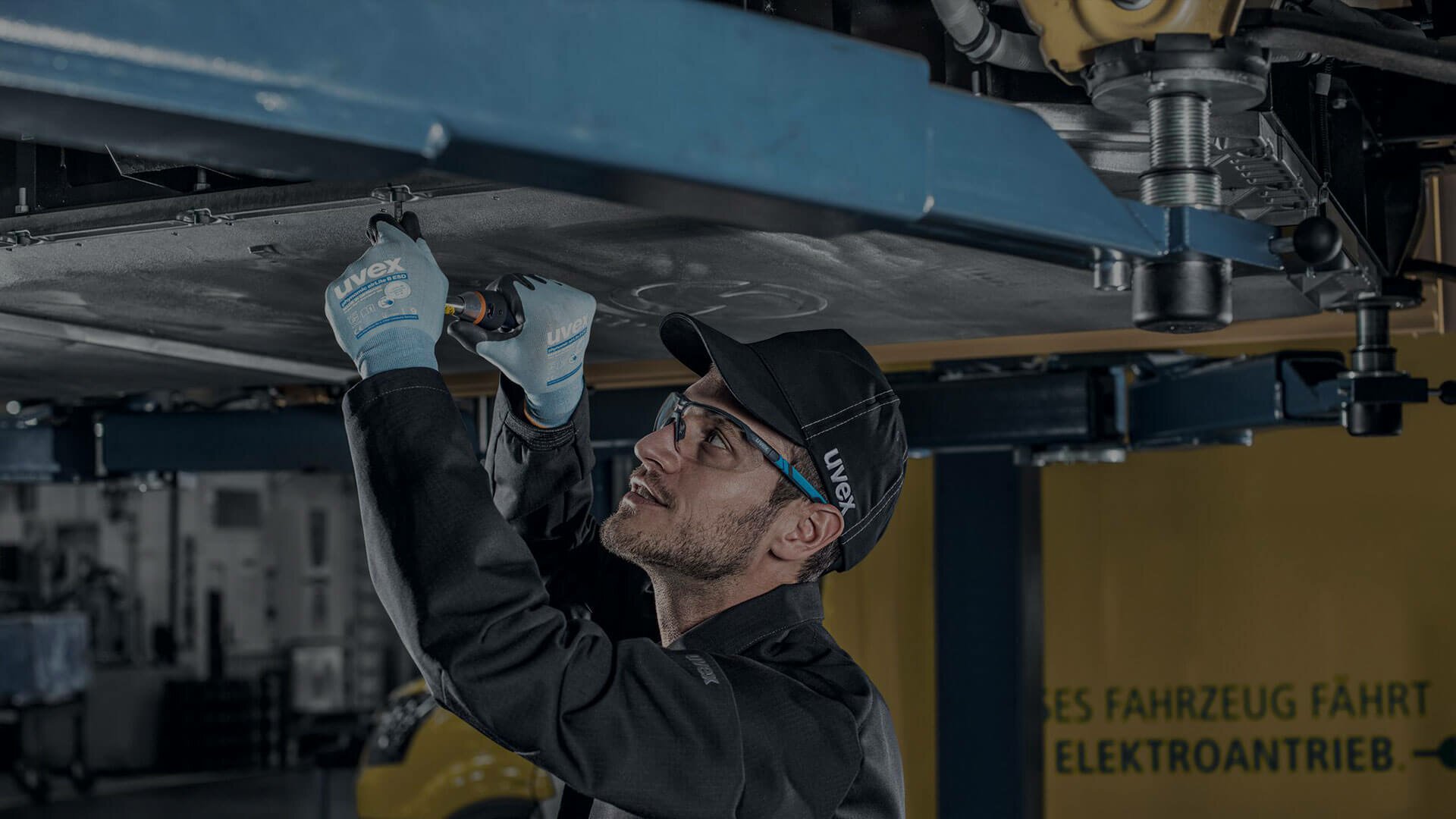 protecting people
uvex occupational safety equipment for workshops
From changing oil, carrying out a range of repairs to preparing vehicles, your workshop employees are asked to perform a wide variety of tasks. There is the pressure of keeping to deadlines as well as the demand for the utmost precision to ensure the functionality and quality of the vehicles that you produce.
Bulky protective equipment is often cumbersome in workshops but is essential for protecting workers against hazards. To ensure that workers can carry out their work safely in oily and slippery environments as well as in the vicinity of electronic components, uvex develops products with optimum ergonomic characteristics to ensure a clear field of vision, maximum mobility and a secure grip.
Safe and stylish
Alongside the specified safety criteria, employees in direct contact with customers are also an advertisement for your brand. With smart shoes and work clothing from uvex, not only are your values represented in colour and style, but they also shine through thanks to high wearer comfort and the well-being of your employees.
Protection from head to toe
Even though you are probably already aware of uvex as a provider of head-to-toe PPE, there is hardly a place where this is more important than in your workshop. Respirators and goggles, ear defenders and head protection, and clothing and gloves that are not compatible with one another are not conducive to ensuring the protection and comfort of your employees. Our experts and advisers are available to help you make the best choice when it comes to essential protective equipment.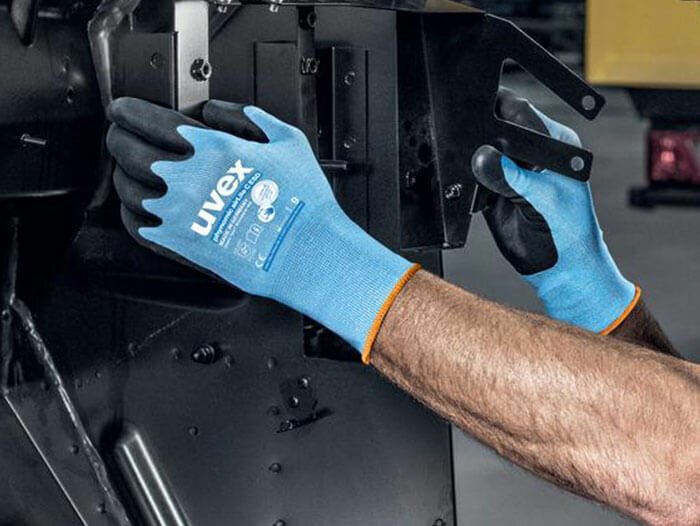 How do I find the right safety glove for me?
The right safety gloves for any type of hazard.
Eye protection for workshops
UV400 vs. UV380
The WHO recommends UV protection up to 400 nm. For uvex, this has always been a given.
Hand protection for workshops
The perfect safety gloves
Find your perfect safety gloves by answering four easy questions.
Foot protection for workshops
Shoe size finder
The uvex shoe size finder app makes it particularly easy to measure your feet and to find the shoe size and width you need.
Head protection for workshops
Hearing protection for workshops
Using earplugs correctly
You will only benefit from the full protective effect of your hearing protection if you insert it correctly and clean reusable earplugs properly.
Respiratory protection for workshops
uvex Respiratory Expert System
The fast route to finding the right respirator for your needs.
Protective clothing for workshops
Prescription safety spectacles and VDU spectacles for workshops
More frames
uvex RX cd - comfort & design
Lens materials
Polycarbonate (PC)
Organic material with very high tensile strength
Only limited chemical resistance
Mechanical strength, class "F" (45 m/sec)
PC+ – polycarbonate lens that is thicker in the middle, especially for uvex RX goggles
Trivex™
Organic material with high tensile strength
Lightweight, also suitable for high prescriptions
Very good optical image reproduction properties even on high prescriptions
Very high resistance to cleaning solutions, oils, cosmetics
Good scratch resistance
Best all-round lens material
Mechanical strength, class "F" (45 m/sec)
Finishes
Anti-reflective coating
Anti-reflective coating is applied to the inside and outside of lenses using vapour deposition. It significantly reduces reflections on the surfaces. It offers a cosmetic advantage and increases light transmission.
Three types of coating are available:
Normal anti-reflective coating
Multi anti-reflective coating
Super anti-reflective coating
UV blue protect
UV blue protect
A special absorber has been added to the lens material that completely filters out UV rays and reduces the blue light content.
The lenses absorb UV radiation up to 400 nm at 100%, filter short-wave blue light until 410 nm almost completely and reduce the range from 410 nm to 420 nm around 86%.
uvex UV blue protect lenses enhance contrast and effectively prevent signs of fatigue and age-related macular degeneration (AMD)
UV blue protect is optionally available for polycarbonate (PC) lenses and HI 1.67
the mechanical strength of the lenses is guaranteed — clear lenses with UV blue protect are marked 2C-1.2 according to EN 170
Our service for optimal protection
Individual eye protection with uvex VDU spectacles and uvex prescription safety spectacles.
Otoplastics for workshops
Certified safety shoe insoles from uvex medicare
Everything you need to know about insoles at a glance!
(German only)
Arrange a consultation with our uvex automotive experts
Are you interested in our uvex automotive equipment and would like to discuss questions and possible conditions? Our uvex automotive experts will be happy to help. Submit a request via our online contact form and we will send you more information.