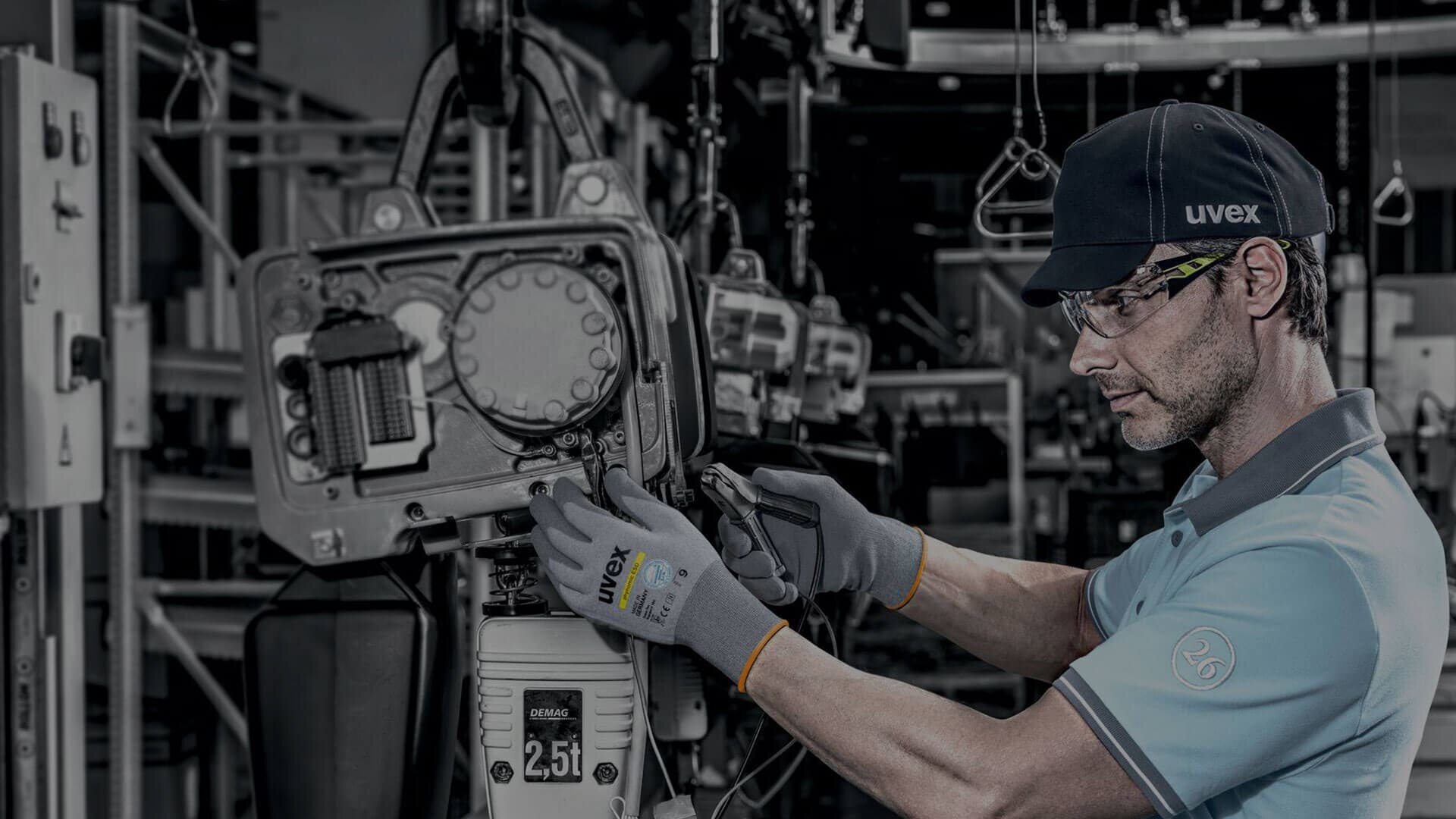 protecting people
uvex occupational safety equipment for assembly and mechanics applications
Even though more and more processes are becoming fully automated as part of Industry 4.0, specialist personnel are still essential for assembly operations. Workers in these fields face many ergonomic challenges and need to demonstrate optimum sensitivity, down to the fingertips.
The working conditions also require a great deal of physical exertion when completing tasks – whether it is having to stand, kneel or stretch for long periods of time. We are passionate about providing these workers with equipment that allows them to keep enjoying their work throughout their careers.
Wearer comfort and protection
When it comes to producing ergonomic PPE, uvex takes a consistent approach to take into account body shapes and movement. This is evident in virtually every material group, be it protective clothing, gloves or head protection. Take the "faceguard" visors with short circuit electric arc protection for example; these allow the visor element to be pushed back into a resting position so that it sits centrally over the middle of the head to balance the weight load for the wearer's neck and thereby prevent fatigue and poor posture.
Can be used with touchscreens
The electromobility sector often impresses with innovative operating systems and displays. This technology often requires unrestricted use of touchscreens to optimise work processes. In this context, wearing safety gloves cannot be restrictive in any way, which is why "UVEX safety gloves", which are made in Germany, place high value on sensitivity and being able to operate displays, regardless of whether protection against rough or sharp objects must be ensured at the same time or a special grip is required.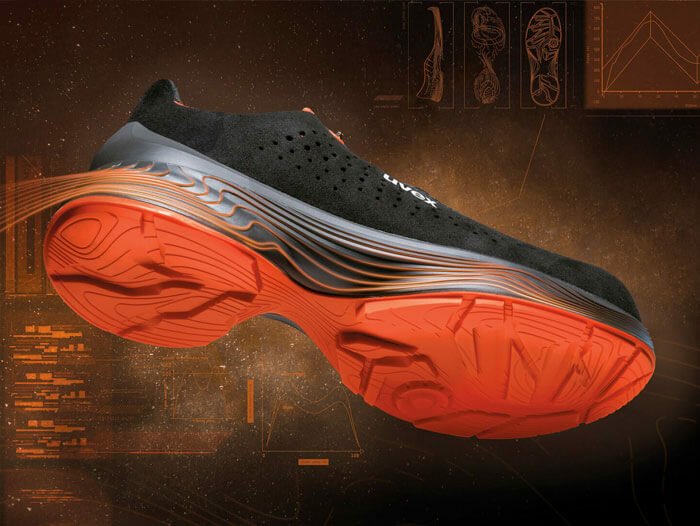 Safety shoes that return energy
Safety shoes with energy return and shock absorption – bursting with energy all day long
Eye protection for assembly and mechanics applications
UV400 vs. UV380
The WHO recommends UV protection up to 400 nm. For uvex, this has always been a given.
Hand protection for assembly and mechanics applications
The perfect safety gloves
Find your perfect safety gloves by answering four easy questions.
Foot protection for assembly and mechanics applications
Shoe size finder
The uvex shoe size finder app makes it particularly easy to measure your feet and to find the shoe size and width you need.
Head protection for assembly and mechanics applications
Hearing protection for assembly and mechanics applications
Using earplugs correctly
You will only benefit from the full protective effect of your hearing protection if you insert it correctly and clean reusable earplugs properly.
Respiratory protection for assembly and mechanics applications
uvex Respiratory Expert System
The fast route to finding the right respirator for your needs.
Protective clothing for assembly and mechanics applications
Prescription safety spectacles and VDU spectacles for assembly and mechanics applications
More frames
uvex RX cd - comfort & design
Lens materials
Polycarbonate (PC)
Organic material with very high tensile strength
Only limited chemical resistance
Mechanical strength, class "F" (45 m/sec)
PC+ – polycarbonate lens that is thicker in the middle, especially for uvex RX goggles
Trivex™
Organic material with high tensile strength
Lightweight, also suitable for high prescriptions
Very good optical image reproduction properties even on high prescriptions
Very high resistance to cleaning solutions, oils, cosmetics
Good scratch resistance
Best all-round lens material
Mechanical strength, class "F" (45 m/sec)
Finishes
Anti-reflective coating
Anti-reflective coating is applied to the inside and outside of lenses using vapour deposition. It significantly reduces reflections on the surfaces. It offers a cosmetic advantage and increases light transmission.
Three types of coating are available:
Normal anti-reflective coating
Multi anti-reflective coating
Super anti-reflective coating
UV blue protect
UV blue protect
A special absorber has been added to the lens material that completely filters out UV rays and reduces the blue light content.
The lenses absorb UV radiation up to 400 nm at 100%, filter short-wave blue light until 410 nm almost completely and reduce the range from 410 nm to 420 nm around 86%.
uvex UV blue protect lenses enhance contrast and effectively prevent signs of fatigue and age-related macular degeneration (AMD)
UV blue protect is optionally available for polycarbonate (PC) lenses and HI 1.67
the mechanical strength of the lenses is guaranteed — clear lenses with UV blue protect are marked 2C-1.2 according to EN 170
Our service for optimal protection
Individual eye protection with uvex VDU spectacles and uvex prescription safety spectacles.
Otoplastics for assembly and mechanics applications
Medicare for assembly and mechanics applications
Certified safety shoe insoles from uvex medicare
Everything you need to know about insoles at a glance!
(German only)
Arrange a consultation with our uvex automotive experts
Are you interested in our uvex automotive equipment and would like to discuss questions and possible conditions? Our uvex automotive experts will be happy to help. Submit a request via our online contact form and we will send you more information.